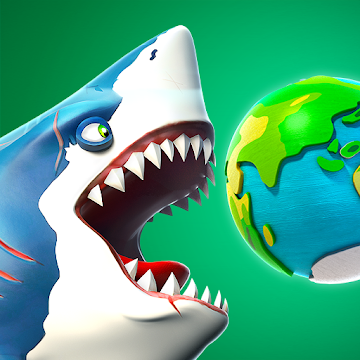 Author:
Ubisoft Entertainment
Ratcliffs.net is not an official representative or the developer of this application. Copyrighted materials belong to their respective owners
Hungry Shark World review
Hungry Shark World is an arcade game with a creative plot where you become a shark ready to eat everything. The game is available on the Android mobile platform. It is compatible with the Android 5.0 system and later. It was released by Ubisoft Entertainment.
Game Details 5/5
Welcome to the world of sharks. You are one of them now. And you have to make chaos everywhere you go. After some time in the game, you will reach the level where you can catch the whale. There are 8 different categories of sharks, including the big white shark, which is the scariest killing machine in the game.
The Hungry Shark World game allows you to travel a lot and explore various oceans, including the Pacific and Arctic oceans. You may go to the Arabian Sea. Different places have their own specifics and inhabitants. Massive open worlds make the game incredibly entertaining.
Although you are a shark now, you have to be extremely careful as you are not the one hunter in the game. There are over 100 numerous creatures ready to eat you or kill you. Even local people can hunt you. Your shark has to grow in the game. There are outstanding skins for sharks, which you can try.
Controls 5/5
Hungry Shark World controls are simple to learn. The game is extremely user-friendly, and you don't have to learn mechanics, specifically if you are an experienced Android smartphone user. Your life and speed numbers will be in the right upper corner of the screen, together with the points you receive previously.
Care for a Replay? 5/5
There are too many activities to perform in the Hungry Shark World game. You will not get bored no matter what your current mood is. If you don't want to struggle against the hostile world, you can explore other open worlds. If you want to take part in a tough survival game, you can pick the extinction mode and challenge yourself.
Visual Aspect 5/5
Hungry Shark World has a colorful, stylish design. Visuals are uniquely fresh and luring. You will definitely enjoy wandering around, exploring new environments. There are vivid creative skins you can try on your shark. The game also offers to collect all the sharks in the game. They are all worthy of your attention.
Sound 5/5
Sound of Hungry Shark World matches perfectly with the pictures. Besides, it makes the game even more realistic. If you get bored with the soundtrack on the background, you can simply turn it off for some time. You will be able to turn it on the back again any time you want it. Makes sure the music does not distract you from the game.
Professional Critic
Ana Gotter
Review Quality Guarantee
Our reviewing standards require every writer to play games for at least 15 hours before telling about them to Ratcliffs.net visitors. Besides, we have strict writing guidelines to let you consume comprehensive information about each product as quickly as possible.
Hungry Shark World