Unleash Your Inner Strategist: Get Civilization 6 at a Bargain on Steam Now!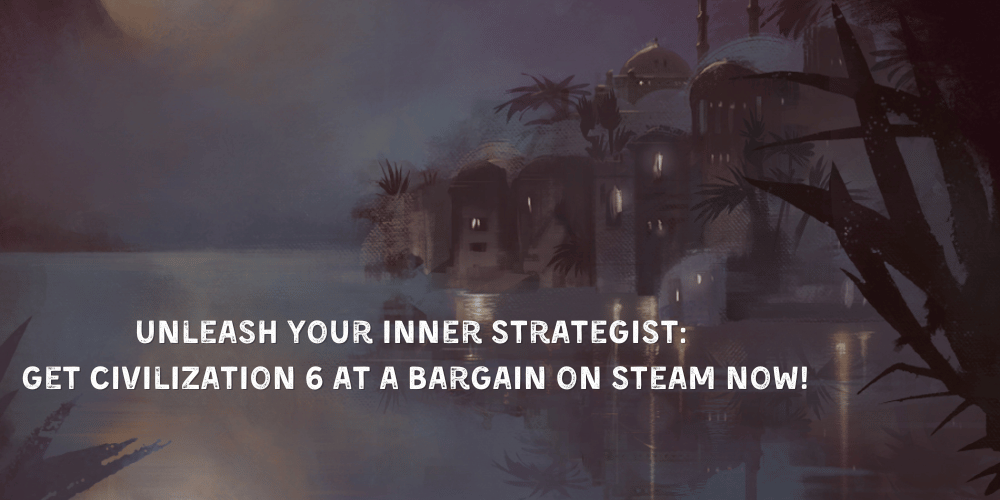 Great news for the gaming community! An amazing opportunity awaits grand strategy game enthusiasts on the Steam platform. The globally acclaimed Civilization 6 is now available at a breathtakingly slashed price for the coming weeks. This is not just about owning a game; it's about being part of an award-winning franchise that has received overwhelming applause since its introduction.
Presented to the world by the creative minds at Firaxis Games, Civilization 6 is a space where strategy intertwines with imagination. Step into the shoes of some of the world's greatest historical leaders to build, expand, and enhance your unique empire. The timeline? From the Stone Age to the Information Age. Remember, victory isn't a straight path; outsmart opponents through military might, technological supremacy, or cultural domination. Despite being launched in 2016, Civilization 6 continues to captivate its loyal fanbase with consistent updates and multiple expansions.
No wonder then that this gem of a game bagged the Best PC Game and Best Strategy Game at the 2016 Game Critics Awards and also the Best Strategy Game at the Game Awards 2016. With Civilization 6, the legacy of its impressive franchise keeps getting better.
Now, coming to the part that you've been eagerly waiting for - the pricing. For a limited duration, Steam is offering Civilization 6 at a stunning 90% off, bringing the price down from $59.99 to just $5.99. Want more? The Civilization 6: Platinum Edition, carrying the base game, six DLC packs, and the Rise and Fall and Gathering Storm expansions, is available at a huge discount, which dials the price down from $167.91 to a mere $14.54. The Civilization 6 Anthology bundle, boasting the base game and 19 DLC packs, is also on offer at an unimaginable $24.93 from $209.85. Get ready to boost your empire-building ambitions with unparalleled content at an unbeatable price.
This incredible promotion is part of Steam's Strategy Fest and runs until September 11. It's truly a feast for strategy game lovers as they can experience daily rewards and discounts. If you've never tried Civilization 6 until now, it's time to explore. For the existing fans, it's the perfect occasion to grab all the DLC content at an absolute bargain. With nearly 200,000 positive reviews on Steam, Civilization 6 is a hallmark of the 4X strategy realm. Embrace the thrill of playing as real-world leaders, solo or coop, and navigate your empire through the complexity, details, and historical context that define this franchise's pedigree.