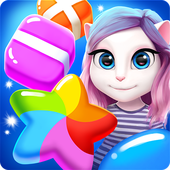 Talking Angela Color Splash
Ratcliffs.net is not an official representative or the developer of this application. Copyrighted materials belong to their respective owners
Talking Angela Color Splash review
Talking Angela Color Splash is a three-in-a-row puzzle game from Outfit7. Angela will explore the world of fashion and stylish outfits, and gamers will help her overcome various and numerous difficulties on the path to excellence. Combo, long chains, the use of bonuses and special items, and much more awaits the players throughout this long but extremely exciting journey.
Gameplay 5/5
Like most puzzle games, Talking Angela Color Splash provides you with a task and a way to complete it. Talking Angela Color Splash isn't the first game by the Outfit7 studio. However, this time Angela wants to explore the world of fashion and to unlock new looks, you (or most likely your kid) have to help her by matching vivid-colored figures. Every time you complete the quest, Angela gets a new one and awards.
The awards usually bring different pumping tools or pieces of the new outfits. The more points you get for completing a level, the more prizes you get. Talking Angela is an exciting app for all types of modern smartphones, which allows you to keep a snow-white adorable cat Angela as an electronic pet. Apart from completing the puzzles, Angela is able to communicate and answer your questions. You can also change Angela's style by changing her clothes or make changes in her appearance.
Controls 5/5
Swipe, scroll, and tap to match the bright figures. This controlling scheme is also useful for kids. It helps to develop the motor skills of your child. Due to the technical features of smartphones and tablets, the application recognizes the facial expressions of the user, so the interactive features of Talking Angela can be considered wider and more complete than other similar programs.
You can give Angela gifts, pet her and, at the same time, see how she enjoys such signs of attention. She can also predict your future. Just press the 'Heart' button, and Angela will get you the prediction from the cookies.
Replay Value 5/5
Considering the reviews and ratings on the App Store and Play Store, kids love Talking Angela. And I understand why. The bright colors, 3D graphics, smooth animations, and simple gameplay along with a rather cute kitty strikes as a 100% success in the children's world of games.
Graphics 5/5
The Talking Angela Color Splash game has amazing visual styling that shines on any mobile device's screen. Vibrant colored and sparkling details attract you or your kid to tap and swipe them. Of course, you can say that all the modern puzzle games have apparently the same playing mechanics, but believe me, Talking Angela's graphics stand out from many similar games.
Sound 5/5
When you play the puzzle game, you can hear a sweet melody playing on the background.
Professional Critic
Karrie Hawkes
Review Quality Guarantee
Our reviewing standards require every writer to play games for at least 15 hours before telling about them to Ratcliffs.net visitors. Besides, we have strict writing guidelines to let you consume comprehensive information about each product as quickly as possible.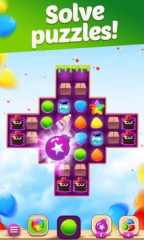 Talking Angela Color Splash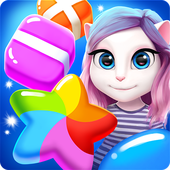 Related games