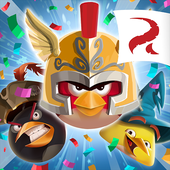 Author:
Rovio Entertainment Ltd.
Latest Version:
2.1.26322.4307
Ratcliffs.net is not an official representative or the developer of this application. Copyrighted materials belong to their respective owners
Angry Birds Epic RPG review
One of the most popular franchises of mobile games is back with a brand new role-playing experience. Angry Birds Epic calls you on a journey across hundreds of islands and dungeons. Assemble a party of adventurers, defeat powerful enemies to get experience and loot, gather rare weapons and have fun.
Gameplay 5/5
The Angry Birds franchise is popular for its polished, addictive arcade gameplay, but that doesn't mean there is no room for experiment. This new installment is not an arcade game, but a turn-based RPG instead. And all of the most basic elements of role-playing games are present: you create a party of angry adventurers and fight your way through crowds of enemies.
Defeating pigs grants you all kinds of useful loot that you can use to improve your equipment. And there is an enchantment mechanism that lets you make your gear even more powerful. So level-up your feathered heroes, provide them with the best gear you can find, and prepare to face boss pigs that are much harder to defeat, but there is also a chance to get rare artifacts.
All in all, this new Angry Birds Epic RPG combines complex elements from traditional turn-based adventures with its iconic style and lightweight atmosphere. What you get is one of the most engaging mobile RPG games in a decade. There's just so much room for exploring, experimenting and improvement that you won't be tired even after a few hundred hours.
Controls 5/5
Controls are not as crucial for a role-playing game, but Angry Birds Epic still does a good job, allowing you to interact with the game world easily. The interface is rather intuitive, and you can learn to play Angry Birds Epic in a matter of minutes.
Replay Value 5/5
The entire Angry Birds franchise is insanely addictive, and Angry Birds Epic is not an exception. It offers you hundreds of different levels to explore, hordes of enemies and a couple of powerful bosses, and a great many weapons, potions, skills, effects, and tactics. You have to spend a few months in this game to complete at least some significant portion of it, and by that time there will be more levels, more everything.
Graphics 5/5
The visual style of this new Angry Birds game is what you'd expect it to be – that means, stunning. It manages to take the iconic character and level design to a whole new level, adding a lot of details that make the game look so polished and appealing.
Sound 5/5
The sound effects are great, too. All of the iconic grunts, squeaks and screams are present, along with all kinds of new sounds for skills and spells. It sure does help create a unique and engaging role-playing experience.
Professional Critic
Ana Gotter
Review Quality Guarantee
Our reviewing standards require every writer to play games for at least 15 hours before telling about them to Ratcliffs.net visitors. Besides, we have strict writing guidelines to let you consume comprehensive information about each product as quickly as possible.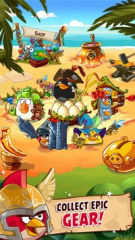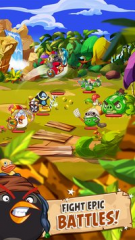 Angry Birds Epic RPG