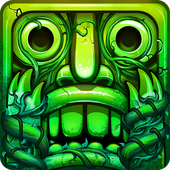 Ratcliffs.net is not an official representative or the developer of this application. Copyrighted materials belong to their respective owners
Temple Run 2 review
The sequel to one of the most popular mobile games, Temple Run 2 offers the same mechanics, but with more features. Run across different locations as you try to escape with the idol, trying new routes, gathering bonuses, and earning achievements.
Gameplay 5/5
The gameplay is basically the same: your character runs through ancient temples, dark mines, and other areas, and your job is to control his turns and jumps. You have to do that rather quick, because there are all kinds of obstacles you need to avoid, as well as a lot of coins to gather. Moreover, you can find power-ups along your run, such as the magnet that helps you get coins more easily.
However, the game has a couple of completely new features. Your path is much more interesting now, because it can turn left, go down and then up again. That makes Temple Run 2 more appealing visually. There are also some new vehicles that help you travel across the map much faster, such as mine carts. All in all, the sequel is even more dynamic and diverse than the original.
Temple Run 2 offers you four different playable characters, and each of them has special abilities and available upgrades. There is only one of them available to you at the very beginning, but you can unlock others as you progress through the game. Of course, the sequel has more achievements you can earn, too.
Controls 5/5
The controls are very simple. You can turn left or right, and jump – and that's pretty much it. All of the bonuses and coins are gathered automatically as you run through them. So your job is to swipe right to turn right, swipe left to turn left, or swipe up to jump. This system is very intuitive, and you can learn to play the game in almost no time – or give it to your children.
Replay Value 5/5
The replay value of Temple Run 2 is great. The gameplay is very addictive, but it doesn't get monotonous and boring. The bonuses make sure you have something to gather apart from the coins, and the achievements give you some kind of goals to strive for. And don't forget that you have four different characters now, so you can try to complete the game with each of them.
Graphics 5/5
Graphics are what really sets the sequel apart from the original. The upgrade to the visuals is hard not to notice, because almost every aspect of the original's visual style is better now. The areas look gorgeous, the fires are much more realistic, and the obstacles look more dangerous than before.
Sound 4/5
The sound effects are nice. The soundtrack creates the tension you need to really engage in the game, and the sounds of running and jumping are great.
Professional Critic
Sean Williams
Review Quality Guarantee
Our reviewing standards require every writer to play games for at least 15 hours before telling about them to Ratcliffs.net visitors. Besides, we have strict writing guidelines to let you consume comprehensive information about each product as quickly as possible.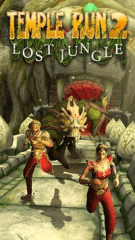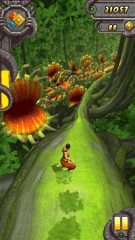 Temple Run 2