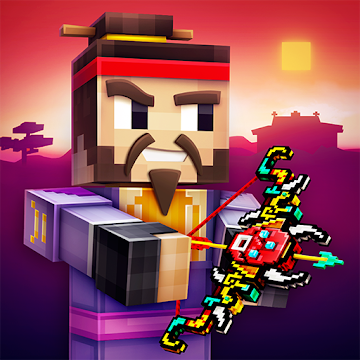 Pixel Gun 3D: Shooting games & Battle Royale
Ratcliffs.net is not an official representative or the developer of this application. Copyrighted materials belong to their respective owners
Pixel Gun 3D: Shooting games & Battle Royale review
Pixel Gun is a Minecraft-styled multiplayer shooter with various modes. Looking like it was built in Minecraft or Roblox, the game has solid gameplay and lots of content, including weapons, armors, pets, and other inventory to enhance your experience.
Gameplay 5/5
Pixel Gun seems to cover all the modes that an action multiplayer can offer. It has a Battle Royale mode, with one out of four islands, 100 players, and one to win. Along with solo mode, it features random team mode, where you join the team and fight another team players, and after being killed you respawn until the game ends. There are even offline modes, where you shoot the zombies.
To diversify the process, the game offers hundreds of weapons and maps, dozens of weapons and pets, and various skins, all sharing that pixel style, but recognizable. Due to this visual simplification, the game doesn't require powerful hardware and runs well on devices of, say, 2013.
Unlike PUBG, or, say, Fortnite, in Pixel Gun you can get better weapons or protection for money. Battle Royale is just a feature for it, not an ideology, and so the comments are full of complaints. But heh, every developer wants some money, and if you just intend to have fun in Pixel Gun, you don't have to invest.
Controls 5/5
The game offers the default control scheme for shooters: a joystick in the left lower corner, a control area in the right part of the screen, buttons to jump and to shoot. You may use an external controller, though using wireless gamepads with Android is still out of the mainstream.
Replay Value 5/5
It's an inventive online multiplayer, with lots of maps and modes, and always unpredictable opponents. You can play it for long, and it will still be fun. The developers offer Battle passes with new missions, and constant seasons with special themes and prizes.
Graphics 5/5
Since Minecraft pixel style has become a feature, not a bug. Despite anything and anyone seems constructed of cubes, all the people, pets, and environments seem alive, and the game gets you involved easily.
Sound 4/5
Luckily, the developers don't offer truly 8-bit music, as this would have been a nostalgic overdose. Instead, we have decent sounds of shooting, screaming, walking, running, or falling, though not meant to be too realistic.
Conclusion
Pixel Gun is a very special mix of PUBG and Minecraft, with cubic pixelized style, almost absolute compatibility, easy controls, and various modes. You may prefer shooters that look more up-to-date, but you better give Pixel Gun a chance, and, maybe, it'll be your next favourite.
Professional Critic
Sean Williams
Review Quality Guarantee
Our reviewing standards require every writer to play games for at least 15 hours before telling about them to Ratcliffs.net visitors. Besides, we have strict writing guidelines to let you consume comprehensive information about each product as quickly as possible.
Pixel Gun 3D: Shooting games & Battle Royale